Buy Local during our "Shop Where Your Heart Is" And Win Big
For each $15 spent at any participating business, fill out a "Christmas Tag" & you'll be entered into our weekly drawing. The more tags the more chances to win.
Weekly drawing will be (1) $100 and (1) $50 local business gift-cards of your choosing from participating businesses.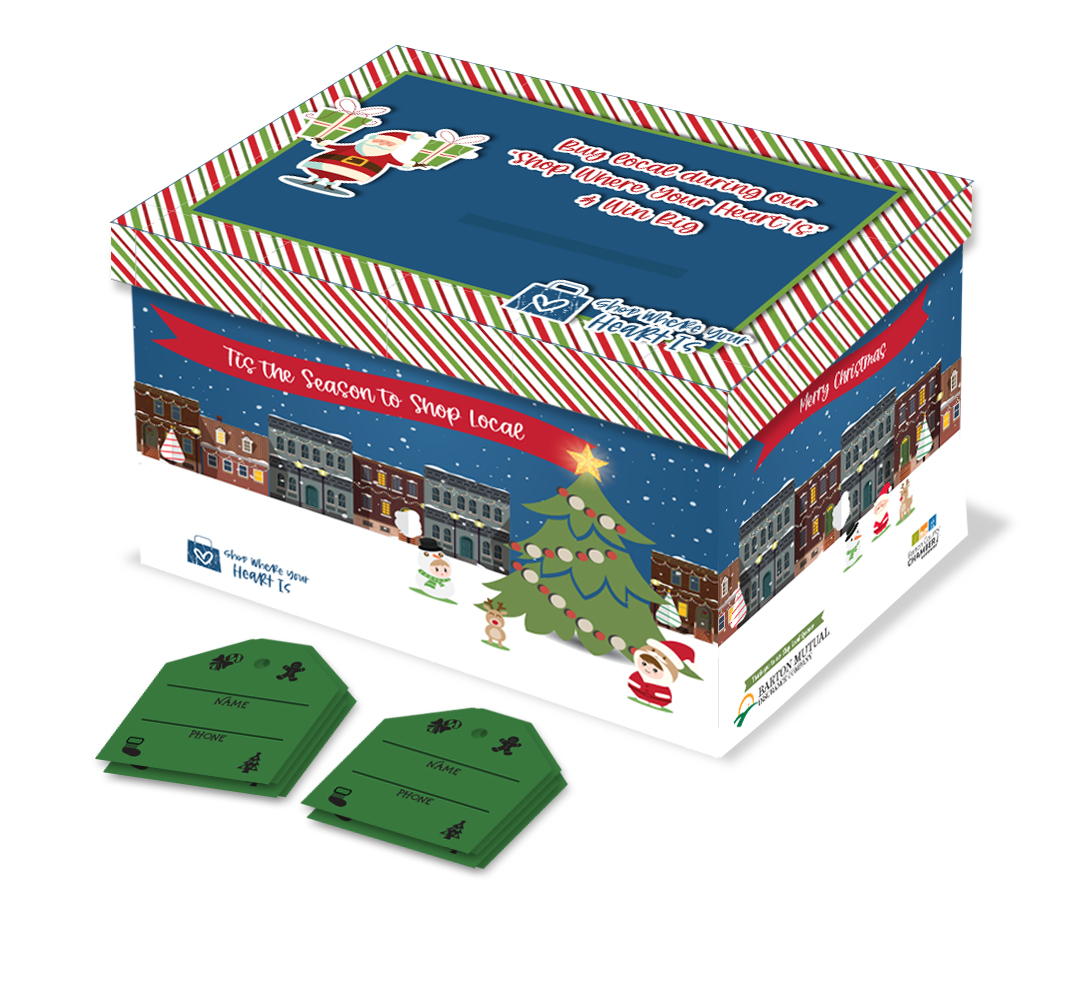 Blue Top Quilt Shop
61 SE 1st Ln.
(417) 681-0330
---------------------------
Castle Shoe Shop
112 W. 10th St.
(417) 682-5449
---------------------------
Cox Barton County
Auxiliary Gift Shop
29 NW 1st Ln
---------------------------
CY6
1030 Broadway
(417) 682-4018
---------------------------
Dot's Hallmark
1025 Gulf St.
(417) 682-5661
---------------------------
Freedom Firearms & Tactical
1205 E 12th St
(417) 214-3224
---------------------------
Good Samaritan Shop
1301 Parry St.
(417) 682-5396
HC Tee Company
453 S Hwy O, Lamar, MO
(417) 214-1246
---------------------------
Heartland Tractor
505 West 12th
(417) 660-7000
---------------------------
Heritage Tractor
510 West 12th St.
(417) 682-5556
---------------------------
Jones Boots
223 Main St. Sheldon MO 64784
(800) 962-4249
---------------------------
Lamar Greenhouse
103 East 9th St.
(417) 682-5497
---------------------------
Morrison Printing
110 E. 10th St.
(417) 682-5065
---------------------------
New Beginnings by Design Consignment Shop
1111 E 12th St.
(417) 214-4880
Rough Country Primitives
605 W. 12th St. Suite A
(417) 955-2957
---------------------------
Tea Shirt Shoppe
807A Gulf St.
(417) 262-8828
---------------------------
Tractor Supply Co.
805 W. 12th St.
(417) 682-2112
---------------------------
Vintage Chaos
37 C SW 1st Ln
(417) 682-4770
---------------------------
The Belt Cocktail Co
1026 Broadway St
(417) 838-8742
---------------------------
The Vault
1011 Gulf St.
(417) 262-8161
---------------------------
Dairy Queen
27 SW 1st Lane
(417) 682-2417
---------------------------
El Caballo de Oro
1201 Parry St.
(417) 295-1077
---------------------------
Heavenly Daylight Donuts
1019 Gulf St.
(417) 682-6211
---------------------------
Mother Tucker's Pizza
3 SE 20th Rd
(417) 681-0855
---------------------------
Plaza Theatre/ Barco Drive-In
107 W 11th St.
(417) 682-6843
---------------------------
The Grind Coffee Shop
1206 Cherry St.
(417) 296-1397
---------------------------
Tractors BBQ & Grill
1008 E 12th St.
(417) 682-6677