Welcome To Wyatt Earp Fallfest 2021
New Times: 11am to 8pm
Every October we celebrate one of our very own "Legendary Beginnings" - Wyatt Earp.
Come out for the day and enjoy great food, crafts, baby show, live music and new this year a Backyard Burger Bash.
Wyatt was Lamar's constable, following his fathers resignation, in 1869. While his time in Lamar he married Urilla Sutherland, after a turn of unfortunate events with the death of his wife and unborn child. Wyatt left Lamar heading west starting the journey of what would become one of America's frontier legends.
Date:
Sept. 25,2021

Cost:
FREE
Time:
11am to 8pm
Location:
Constitution Square
Downtown Lamar, Missouri
Contact:
Barton County
Chamber Of Commerce
members@bartoncounty.com
(417) 682-3595

Wyatt Earp Fallfest Events
TBA
(Some seating will be available, but please your lawn chair to enjoy these amazing artists.) 


Friendly competition to see who can make the best backyard burgers.
Enter In Any Or All Four Categories
Classic
Burger
Requirements
Beef, Bun, Lettuce, Pickle,
Tomato, Onion, Ketchup,
Mayo & Mustard
Open
Burger
Requirements
Beef Patty,
Garnishes - Fixed Any
Way You Like
Wild West
Burger
Requirements
Anything Goes
Beef, Buffalo, Tofu,
Salmon, Poultry, Etc.
Ancillary

Anything On A Stick -
Prepared On Site
Can register in person at the Barton County Chamber Office (Tuesdays through Thursdays)
Registration Deadline Monday September 13, 2021 at 4pm
Check In At 2:00pm   |   Cooking Starts at 3pm   |   Judging At 5:00pm
Points From Each Category Decides Grand Champion & Reserved Grand
Categories Will Be Judged By Taste, Appearance,Temperature, and Overall.
------------------------------------------------
------------------------------------------------
All meat MUST Be Prepared On Site - No Exceptions.
Meat, garnishments, condiments/toppings are provided by contestant, one burger will be split between three judges.
Meat and buns will be provided by the Chamber for the VIP sliders.
------------------------------------------------
Charcoal, wood or gas grills allowed. If cooking with a pellet cooker you must provide your own power supply.
Some grills will be available, but please register early.

Purchase VIP Tickets for a Tasting of Sliders Prepared by our Contestants and Free Bottomless Busch Light from 6pm to 8pm all for $30. Limited tickets available, purchase early.
Can purchase in person at the Barton County Chamber Office (Tuesdays through Thursdays)

Special Thanks To Our Sponsors

Wyatt Earp Baby Show
Registration -  TBA
Baby Show -    TBA
Location - TBA

$5 Entry Fee | Western Attire
Categories
0-3 Months
3-6 Months
6-9 Months
9-12 Months
12-18 Months
18-24 Months
Twins 0-24 Months
Awards For First Place Winners & Grand Champion!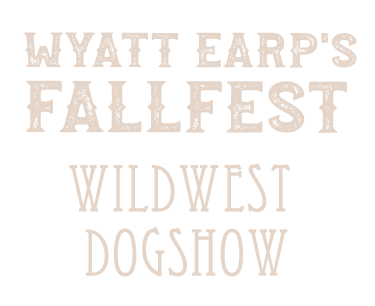 WHERE:
TBA
TIME:
TBA- Registration
TBA Wild West Dog Show
$5 Entry Fee
Categories
Toy - 0-12lb ** Small - 12-25lb ** Medium - 25-50lb
Large - 50-100lb ** XLarge - 100lb +
Awards For First Place Winners
All dogs must be on a leash.
Vendors selling name brands (Mary Kay, etc) Chamber Members will be given priority.

Non-members who inquired first will be placed on a FIRST PAY basis (meaning, the person who gets their $$ in first, will secure their place at the event.) Anyone registering second, third, etc - will have their money refunded and be notified by email as soon as possible.

Booths are 12'x12' and are placed in the parallel parking spaces around the square. Booths and tables will NOT be provided.
As electricity is limited around the vendor spaces, it will be provided to food vendors for certain but will be available only to a limited number of regular vendor spaces. PLEASE email members@bartoncounty.com if you need electric for your booth space.
Event staff will be on site starting at 10:00 am on the day of the event. Vendors are welcome to set up early, but no security is provided.
All booths must be set up & open by 12:00 pm promptly and tear down no earlier than 7:00 pm.
There is no rain date for this event and no refund will be given in case of inclement weather.
Vendors will be contacted with event packets no later than 3 days before the event via email.
If you do not have an email account you must reach out to the Barton County Chamber of Commerce to obtain your booth location BEFORE the day of the event.
PLEASE DO NOT SELECT A SPACE RANDOMLY - it is important you set up in the place designated for your booth.
Booth Costs
$25 12x12 booth (Members Only)
$50 12x12 booth (Non-Members)
$50 Food Vendor (Members Only)
$100 Food Vendor (Non-Members)
We accept cash, money order, credit card & check. Make checks payable to:  Barton County Chamber of Commerce.
Due to a large number of guests visiting Lamar, hotel space fills up fast. Be sure to book yours today & let them know you're coming to Wyatt Earp Fallfest!
Lamar Super 8 - This local hotel is a multi-award winning facility (Trip Advisor & Super 8) features breakfast & late night snacks!
Call for your reservation: 417-682-6888
Blue Top Inn - This historic inn recently renovated to make your stay truly memorable. Call for reservations: 417-682-6034
Super 8 Hotel

Blue Top Inn