Welcome To The Lamar Free Fair 2021
Every August, Missouri's largest free fair, which is celebrating its 76th year, takes over downtown Lamar. A week long fair activities includes a carnival, vendors of all kinds, queen contest, community & civic group booths featuring your favorite carnival foods, youth livestock show, art show, blue ribbon contests, parades, and family fun for all ages!
Date & Time:
Saturday August 7 to
September 5
Rotary Fair Queen Pageant
Saturday, Aug 7th

Carnival & Booths
Open Aug 25 to Aug 28
Location:
Constitution Square
Downtown Lamar, Missouri
Contact Information:
Becky Costley
417-850-2033
beckycostley@hotmail.com
Lamar Fair Tickets
Only $17 Each, when you purchase advanced sale tickets*. Purchase now through Wednesday Aug. 25 at these locations!
Community National Bank & Trust (Lamar) -- (417) 682-3574
Lamar Bank & Trust Company (Lamar) -- (417) 682-3348
Arvest Bank (Lamar) -- (417) 682-6066
Citizen Bank (Liberal) -- (417) 843-6445
Ride Schedule
Wednesday   August 25, 2021 - 6pm to 11pm
Thursday       August 26, 2021 - 6pm to 11pm
Friday             August 27, 2021 - 6pm to 11pm
Saturday        August 28, 2021 - NOON to 5pm & 6pm to Closing
*Tickets purchased at booths during the Fair are $20 each. One ticket each night for each member of your family lets you ride all the rides as many times as you like, except for Saturday. Two tickets are required Saturday; one ticket for noon-5 p.m. and another for 6 p.m.-closing. The Rides furnished and operated by Evan's United Shows.
Lamar Fair Map & Schedule
Rotary Fair Queen Pageant -- 7 pm -- Thiebaud Auditorium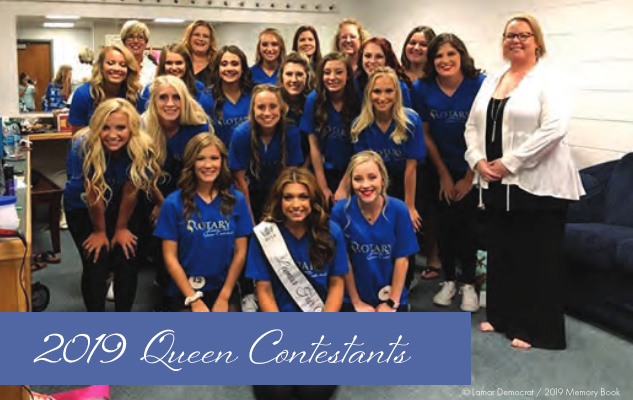 The Lamar Free Fair is located in Downtown Lamar Missouri. Lamar is conveniently located near the I-49 and US highway 160 interchange, just 40 miles north of Joplin Mo at exit 77. Lamar is just 80 miles northwest of Springfield Mo via 1-44, US 96 to I-49. 
Click on the map image to the left to view venue locations of fair activities throughout Lamar. The full fair schedule is to the right.