Welcome To The Lamar Free Fair 2023
Every August, Missouri's largest free fair, which is celebrating its 76th year, takes over downtown Lamar. A week long fair activities includes a carnival, vendors of all kinds, queen contest, community & civic group booths featuring your favorite carnival foods, youth livestock show, art show, blue ribbon contests, parades, and family fun for all ages!
See link for information & rules for: Shows, Contests, Parades, Livestock & More!
Date & Time:
Friday August 18 to August 26
Carnival & Booths
Open Aug 23 to Aug 26
Location:
Constitution Square
Downtown Lamar, Missouri
Contact Information:
Becky Costley
417-850-2033
beckycostley@hotmail.com
Lamar Fair Tickets
Only TBA Each, when you purchase advanced sale tickets ($TBA on the Midway). Purchase now through 5pm, Wednesday Aug. TBA at these locations!
Community National Bank & Trust (Lamar) -- (417) 682-3574
Lamar Bank & Trust Company (Lamar) -- (417) 682-3348
Arvest Bank (Lamar) -- (417) 682-6066
Citizen Bank (Liberal) -- (417) 843-6445
Ride Schedule
Wednesday   August 23, 2023 - 6pm to 11pm
Thursday       August 24, 2023 - 6pm to 11pm
Friday             August 25, 2023 - 6pm to 11pm
Saturday        August 26, 2023 - NOON to 5pm & 6pm to Closing
*Tickets purchased at booths during the Fair are TBA each. One ticket each night for each member of your family lets you ride all the rides as many times as you like, except for Saturday. Two tickets are required Saturday; one ticket for noon-5 p.m. and another for 6 p.m.-closing. The Rides furnished and operated by Evan's United Shows.
The Lamar Free Fair is located in Downtown Lamar Missouri.
Lamar is conveniently located near the I-49 and US highway 160 interchange, just 40 miles north of Joplin Mo at exit 77. Lamar is just 80 miles northwest of Springfield Mo via 1-44, US 96 to I-49. 
Check out the fair schedule below and a map of event locations.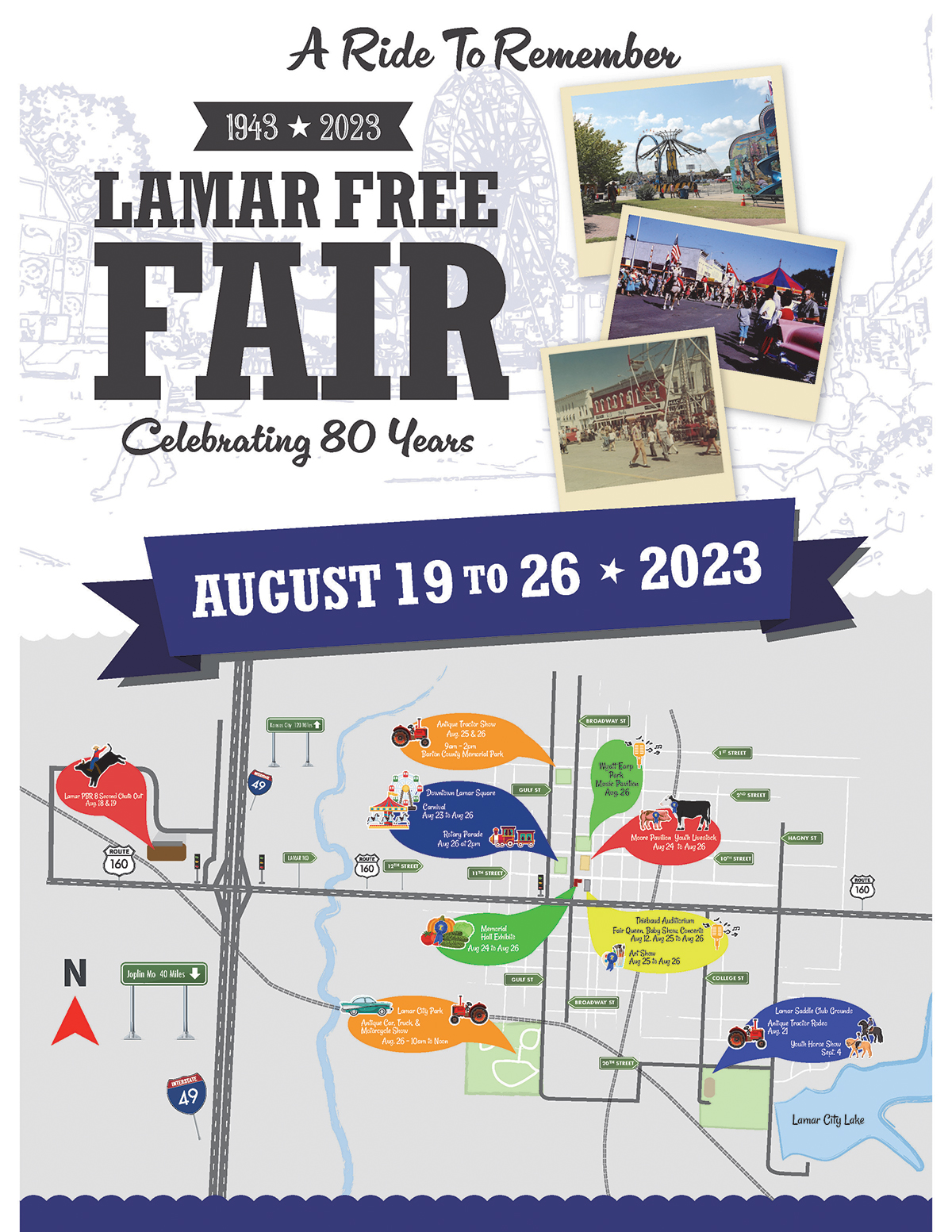 Saturday, August 12

Rotary Fair Princess & Pre-Teen Pageant
4pm
Thiebaud Auditorium
Rotary Fair Teen & Queen Pageant
7pm
Thiebaud Auditorium
Friday, August 18
Lamar PBR 8 Second Chute Out*
8pm (6:30pm Gates Open
Freeman Outdoor Event Center
Saturday, August 19
Lamar Art League Exhibits Entered
9am to Noon
Thiebaud Auditorium
Lamar PBR 8 Second Chute Out*
8pm (6:30pm Gates Open
Freeman Outdoor Event Center
Sunday, August 20
Community Worship Service
7pm
Location To Be Determined
Monday, August 21
Window Hobby Show Registration
9am-4pm (Judging Wed)
Lamar Bank & Trust
Antique Tractor Rodeo
5:30pm
Lamar Saddle Club Grounds
Tuesday, August 22
Carnival & Food Vendors Set Up
6pm
Lamar Square
4-H Exhibits Entered & Conference Judging
6-8:30pm
Thiebaud Auditorium

WEDNESDAY, AUGUST 23 -- CARNIVAL & RIDES OPEN!

Wednesday-Friday 6-11 pm • Saturday Noon-5 pm & 6 pm-Closing

Vendors Set Up
Starting 9am
South Side of Square
Gospel Sing
7:00pm (6:30pm Preshow)
Thiebaud Auditorium
4-H Youth Demonstrations
6-8pm
Thiebaud Auditorium Foyer
All Livestock Check In
Before 9pm
Moore Pavilion
Thursday, August 24
Swine Show
8am
Moore Pavilion
Barton County Historical Society Museum
1-9pm
Barton County Courthouse Basement
Goat Show
2pm
Moore Pavilion
Youth Livestock Judging Contest
6:30pm
Moore Pavilion
The Lesters
7:00 pm
Thiebaud Auditorium
Memorial Hall Exhibits Entered
8 am-2 pm (Judging 2 pm)
Memorial Hall
Friday, August 25
Beef Show
7:30pm
Moore Pavilion
Bucket Calf Show
During Beef Show
Moore Pavilion
Baby Show
9am (Judging 10am)
Thiebaud Auditorium
Antique Tractor Show
9am -2pm
Barton County Memorial Park
Lamar Art League Art Exhibition
12:30 - 8pm
Thiebaud Auditorium - West Rm
Barton County Historical Society Museum
1-9pm
Barton County Courthouse Basement
Sheep Show
1pm
Moore Pavilion
Livestock Auction
7pm
Moore Pavilion
Sheep Leadline
After Auction
Moore Pavilion
Saturday, August 26
5/10k Run
7:30am
East Side of Square
Livestock Showmanship
9am
Moore Pavilion
Lamar Art League Art Exhibition
12:30 - 8pm
Thiebaud Auditorium - West Rm
Antique Car, Truck & Motorcycle Show
10am - Noon (Judging Noon)
Lamar City Park
Antique Tractor Show
9am - 2pm
Barton County Memorial Park
Barton County Historical Society Museum
1-9pm
Barton County Courthouse Basement
Rotary Parade
2pm (Judging 1:15pm)
Lamar Square
Sober As A Judge
7pm
Wyatt Earp Park NE Corner Square
Monday, September 4

Youth Horse Show
10am
Saddle Club Grounds