If you would like your business or organization information posted here on our community page
please email marketing@bartoncounty.com
Absentee Voting In Barton County
Press Release 9/22/2020
Absentee voting for the November 3, 2020 General Election is now open.
Bring current ID when voting.
The County Clerk's office is open Monday-Friday from 8:30 a.m. to 4:30 p.m.
We are located at the courthouse; 1004 Gulf, Lamar.
In addition to normal office hours, the County Clerk's office will be open:
Saturday, October 17, 2020 9:00 a.m. – 1:00 p.m.
Saturday, October 24, 2020 9:00 a.m. – 1:00 p.m.
Saturday, October 31, 2020 9:00 a.m. – 1:00 p.m.
If you have questions concerning voting give us a call at 417-682-3529.
Edward Jones ~ Free Webinar
Social Security Questions?
The office of Andrea Hollstein at Edward Jones in Lamar would like to invite you to join them for a "Free Webinar" this Thursday, September 24th at 6:00 pm.
Call 417-682-6545 or email Amy.Curless.Marrone@edwardjones.com
to RSVP!
Rustic Barn Open Market
Open Market
Friday & Saturday
September 25 & 26
8:00am to 4:00pm
Free Outdoor Vendor Space Available
Call to reserve your spot!
1205 E. 12th St
Lamar, MO 64759
417-295-1119
City Of Lamar Clean-Up
City crews will be picking up rubbish and discarded items at curbside.
Items will not be picked up in alleys.
Items must be able to be picked up by two men.
Items and rubbish that are small and can easily be scattered must be placed in bags
Do not place with regular trash picked up by the Sanitation Department.
Please separate the following items:
Limbs and Brush (no leaves)
Appliances (from Residents Only)
Items should be placed at curbside the week of
September 28th thru October 2nd, all Wards
Pickups will not be divided by wards
Wyatt Earp Fallfest ~ Oct 3rd, 2020
11am to 8pm ~ Lamar Mo Downtown Square
Bring Your Lawn Chair And Enjoy A Day Full Of Music And Fall Festivities 
Festival Food • Craft Vendors • Beer Garden
• Wild West Dog Show • Baby Show • Lawn Games
Live Music
Featuring Relative Rhythm at 12:30 to 2:30

The Dirty Strings at 3:00 to 4:30

The Adam Johnston Band at 4:30 to 6:00pm

and Ben Miller Band at 6:30 to 8:00pm
=====================
New this year ~ Backyard Burger Bash
Friendly competition to see who can make the best backyard burgers.
From 2pm to 5pm | $25 entry fee
Also, purchase VIP Tickets for a Tasting of Sliders Prepared by our Contestants and Free Bottomless Busch Light from 6pm to 8pm all for $30. Limited tickets available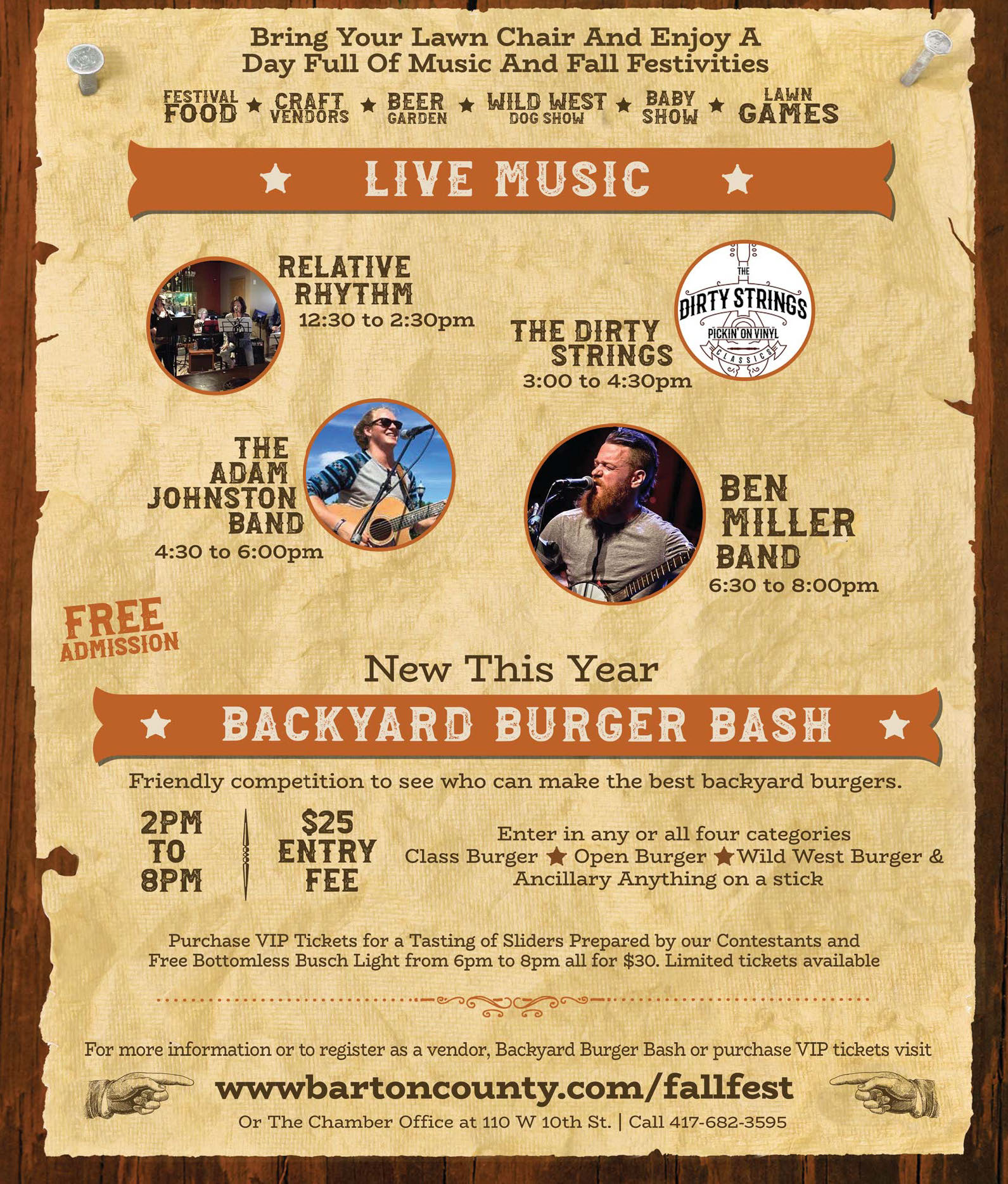 National Night Out
National Night Out is an event designed to bring the community together to support participation in anti-crime efforts.
Location: NE corner of the Lamar Square (grass lot across from Lamar Bank and Trust)
When: October 6th, 2020 at 5:30 pm
Activities: A K9 demonstration, emergency vehicle display, activities, and free food.
Contact: CRO Robert Lawrence Jr
rlawrence@lamarmo.org | 417-682-3546
Lamar Memorial Park Fundraising ~ Luncheon on October 24th from 11-2
VETERANS TO BE MEMORIALIZED WITH WALK OF HONOR
Gordie Godfrey
The Barton County Memorial Park (BCMP), located at 2nd and Gulf, is well underway with paying tribute to the 69 Barton County soldiers who died during WWII. This has always been the #1 priority in creating the park. Phase 1, as it is called, will be located in the southwest part of the park in front of the flagpole. Sixty-nine service markers used form the old hospital will be etched with each soldier's name. The stones will then be placed in rows, flush with the ground.
Phase 2 (our current project) will be a fundraiser to sell 12x12 grey, granite pavers for $150 each. This will be a great way to honor and memorialize anyone, in any branch, that served their country at any point in American history. The project also has a matching grant that will run though December 1st, but sales will continue indefinitely. The Walk of Honor will eventually lead to a unique lighted memorial design that will honor all Veterans in their fight to keep America free. Three lines (possibly four) will be engraved on the pavers. Line 4-Optional: Maybe years of service or other information
This fundraiser also includes selling engraved bricks and pavers that will be centered around an area where the original 1948 hospital cornerstone was located.
Engraved bricks will be used in a wall that will honor any staff member who worked at the original hospital from its opening in 1949 to its closing in 2007. These bricks will sell for $75 and include the name and service such as:
Blanche Godfrey, RN
A 12x12 granite paver, much like the Walk of Honor pavers, will also be offered for the cornerstone area. These will be placed in the ground, near the cornerstone and will sell for $150. These pavers will be in honor of somebody who has used the services of the old BCMH such as a birth, death or even lengthy visit. Up to four lines will be available on these pavers.
An example would be:
Gordon S. Godfrey
June 30, 1951
A luncheon on October 24th from 11-2 will be held at the BCMP. A burger (or brat), chips, cookie and drink will be sold for $7 each. All proceeds will go to the BCMP. This luncheon will also be an opportunity to see an artist's rendering of the proposed memorial as well as samples of the bricks that will be offered.
Donations for the BCMP are now being accepted. We are now a 501c3, not for profit organization if you need that information for a donation.
Checks can be made out to the Barton County Memorial Park and sent to:
Joe Davis – 100 Gulf
Gordie Godfrey – 202 Gulf or
Jeff Clements – 101 Gulf, all of Lamar, MO 64759.
We are currently working on a website that will take donations through PayPal. The Facebook page is www.facebook.com/108gulf or search Barton County Memorial Park.
You can also contact us at:
417.214.2378 Gordie
417.825.5050 Joe
417.214.1767 Jeff
Lamar Enterprises
PLEASE adhere to the following rules.
DO NOT stack recycling next to bins!!!
Lamar Enterprises only accept the following:
Cardboard
Plastics (#1 & #2)
Aluminum & Tin
Paper/Magazines/ Books
Starting on Wednesday, September 16th through October 16th, McDonald's is excited to introduce the NEW: McDonald's Teach It Forward Outstanding Educator Award.
We are on the hunt to find top educators in our area who exhibit the ultimate dedication to their students and contribute to the improvement of education in our most challenging times. We all know a great educator in the community and we challenge you to nominate them for this fun award! To nominate, simply submit your educator's nomination through the below link! Anyone can nominate their stand out educator whether a coworker, parent, grandparent or friend! It's fast and easy plus the recognition will make deserving educators smile and feel the love from their community and hometown McDonald's restaurant.
Winners will receive:
$100 Visa Gift Card
McDonald's Outstanding Educator T-Shirt
Coupons to Teach It Forward to share with the parents of outstanding students
New Cox Barton County family practice physician carries on family tradition
Joshua Williams, MD, has joined the health care team at Cox Barton County Hospital.
Williams attended medical school at the University of Missouri-Kansas City, and completed his residency program in family medicine at Truman Medical Center and Children's Mercy Hospital in Kansas City. He sees patients of all ages and has a special interest in pediatrics.
The decision to become a physician was an easy one for Williams, who grew up in Minnesota. His dad is a pediatrician, his mom is a nurse, and his little brother is following his same path and is currently in medical school at his alma mater.
"During my residency program, I had the opportunity to complete rotations through a rural location, and I just loved it," he said. "I recognized early on that providers had the opportunity to really get to know their patients, and that is something that I want to do because I'm a problem-solver. I want to come up with solutions so I can improve the lives of my patients."
Williams is currently splitting his time between the Medical One Clinic, where he sees patients two days a week, and as a hospitalist (inpatient physician) on the hospital's Medical-Surgical unit.
"I have really enjoyed seeing patients of all ages in both the clinic and hospital settings," he said. "I want to make an impact in the lives of my patients, and this model allows me to do just that. I like the fact that I could potentially see a patient in the clinic and also care for them in the hospital."
Williams has enjoyed settling into living and working in a rural community, and has taken some time to explore parts of the region. He's looking forward to getting to know the area even more, as well as the wonderful people who live here.
During his free time, he enjoys playing the guitar, biking, jogging, trying new restaurants, and spending time with friends.
Williams is currently accepting new patients. To make an appointment, please call 417-681-5266 or visit coxhealth.com.
Census takers will visit homes that haven't yet responded to the 2020 Census.
Census takers will wear masks and follow local public health guidelines when they visit your home.
All census takers complete a virtual COVID-19 training on social distancing and other health and safety protocols before beginning their work in neighborhoods.
Census takers are hired from your area, and their goal is to help you and everyone in your home be counted in the 2020 Census. If the census taker who visits your home does not speak your language, you may request a return visit from a census taker who does speak your language.
If no one is home when the census taker visits, the census taker will leave a notice of their visit with information about how to respond online, by phone or by mail.
If you respond online or by phone today, a census taker is less likely to have to visit your home to collect your response.
How Can You Verify That Someone Is a Census Taker?
If someone visits your home this year to collect information for the 2020 Census, check to make sure they have a valid ID badge with their photograph, a U.S. Department of Commerce watermark, and an expiration date. Census
Sharon Kay Lucas, age 61 of Lamar passed September 18, 2020.
The family will receive friends from 6:00 to 7:00 pm, Thursday, September 24th, 2020 at the funeral home.
Funeral services will be at 2:00 p.m. Friday, September 25th, 2020, at Daniel Funeral Home with burial to follow in Anna Edna Cemetery in Jerico Springs, MO.
----------------------------
Kay Abbiatti Singer, age 84, of Golden City, passed on September 18th, 2020.
September 26th, 2020, the family is hosting a memorial concert in Kay's honor at the family farm NE of Golden City.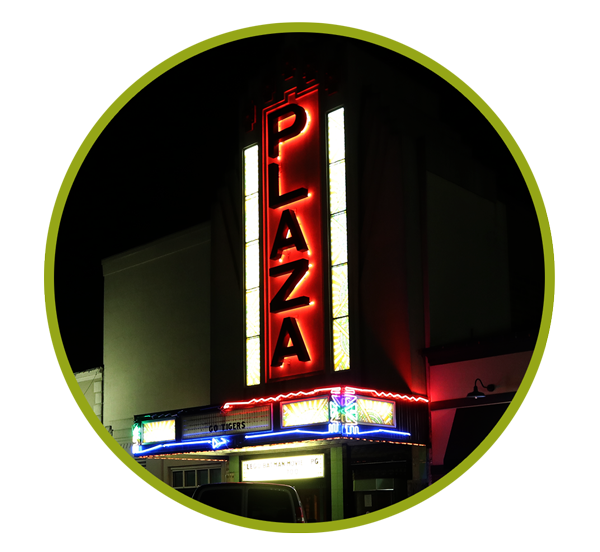 The Plaza Theater
On The Lamar Downtown Square
Please support your Plaza!

Trolls World Tour
Sept 25-29
Friday: 6:00pm
Saturday: 1:15 & 3:30pm
Sunday: 1:15, 3:30 & 6:00pm
Monday & Tuesday 6pm

Barco Drive-In
East Highway 160
Encore Drive-In Nights Featuring
Kane Brown with guests Granger Smith, Lauren Alaina & Jammie Allen - On screen concert
Saturday September 26th at 7:00!
Tickets on sale through Ticketmaster.com
------------------------------------
The Rocky Horror Picture Show
45th Anniversary & The Little Shop of Horrors!
Friday at 7:30! Saturday at 10:00!
Admission Adults $8.00 & children 3-11 $4.00!
Cash or check only please! The box office and snack bar open Friday at 7:00!
Saturday around 9:30 after the Kane Brown concert!