If you would like your business or organization information posted here on our community page
please email marketing@bartoncounty.com
Inflation: What You Can Do About It
Date: Wednesday, Jan. 26, 2022
Time: 3 p.m. CT
We've all seen the headlines – inflation is high. Supply chain issues, labor shortages and more can impact investors. We'll discuss historical and current inflation examples, as well as detail current planning implications and strategies investors can use to help mitigate inflation risk in the future.
Tune into this webinar for the key things you should know to help your portfolio weather these market changes.
Andrea Hollstein
Financial Advisor
417-682-6545
1032 Broadway
Lamar, MO 64759
Barton County Chamber 2022 - 2023 Community Guides
Check out our new Community Guide, full of places to visit in Barton County.
It's that time of year. Time to nominate the "Best of Community" -- lets show our appreciation to those that work behind the scene through out the year to help make this community what it. - Nominations close Feb. 3
Nominate Your:
Favorite Business
Healthcare Provider
Volunteer Spirit
Truman Award
Employee
Nominees will be announced starting Wed. February 9th
Winners will be announced during our annual luncheon on April 7th at the new Lamar Airport Hanger.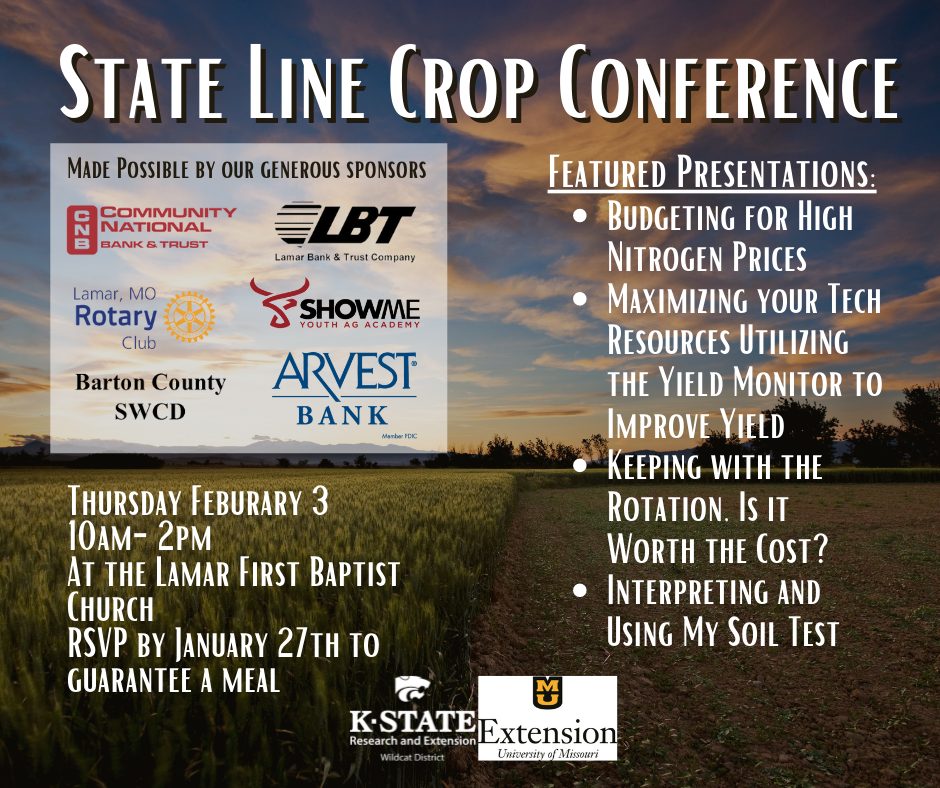 State Line Crops Conference February 3, 2022
Kansas State Research and Extension and University of Missouri Extension is partnering to hold a State Line Crops Conference on February 3 from 10:00am to 2:00pm at the Lamar First Baptist Church in Lamar, Missouri.
Crop producers are facing some difficult times. Though commodity prices are higher than they were in 2021, inputs, especially fertilizer, have seen a drastic increase. Machinery, fuel, seed, etc. have all risen, but the one topic that keeps rising to the surface now is the cost of fertilizer. That is why the topics covered at this conference are very timely.
Program topics include:
Budgeting for high nitrogen prices – Dorivar Ruiz Diaz, KSU
Maximizing your tech resources, utilizing yield monitor to improve yield – Kent Shannon, MU
Keeping with the rotation, is it worth it? – Ray Massey, MU
Interpreting and using soil test – James Coover, KSU
The event is free to attend and lunch is provided, but registration is required. To register via the link below, or call 417-682-3579. ~ RSVP by January 27 to guarantee your meal.
Sponsors for the event include Show Me Youth Ag Academy, Barton County SWCD, Community National Bank and Trust, Lamar Bank and Trust Company, Arvest Bank, Missouri Extension and K-State Extension.
New EPA Label Decisions will Likely Impact the use of Enlist Products in Five Southwest Missouri Counties in 2022
This week, the EPA released a decision that will prevent the use of the herbicides Enlist One (2,4-D choline) and Enlist Duo (2,4-D choline + glyphosate) in five southwestern Missouri counties. These counties include Barton, Bates, Cedar, St. Clair, and Vernon.
These labeling decisions have been made by EPA primarily based on concerns surrounding the protection of endangered species that may "use corn, cotton, or soybean fields for diet and/or habitat". The registrant of these products, Corteva, has indicated that they have already completed additional studies that could address the EPA concerns and so it is possible that some county restrictions may be removed in the coming months, but it is too early to speculate.
Assuming the county restrictions hold for the 2022 growing season, the obvious question being asked by growers who reside in these counties and who had already purchased Enlist soybean seed with the intention of applying the Enlist products is, "What should I plan on doing for my weed management program now?" For growers who find themselves in this situation and have glyphosate-resistant waterhemp (which applies to most of the fields in our state), I would encourage them to use an effective pre-emergence residual herbicide that contains multiple modes of action at or near planting, and plan on coming back post-emergence with a timely application of a glufosinate product.
At the time of this post-emergence glufosinate application, I would also suggest another group 15 residual herbicide (products that contain S-metolachor, acetochor, pyroxasulfone, etc.) which is a program that is referred to as an overlapping or layered residual approach. Overall, this is a program that is still effective on the majority of waterhemp populations in our state. If you are certain that you do not have glyphosate resistance in your waterhemp, a similar approach that includes glyphosate instead of the glufosinate can be followed.
For the remainder of the state where these products will be allowed (non-highlighted counties in Figure 1), it should also be noted that there will be additional new label restrictions that are directed towards reducing off-target movement and protecting endangered species. Some of the more notable of these include: no applications permitted when rainfall is expected within 48 hours or when soils are fully saturated; no irrigation that could produce runoff within 48 hours after application; requirement of a downwind 30-foot buffer; and no applications permitted after soybean crops are in bloom. All applicators should check the modified labels to make sure they comply with these new requirements prior to use in the 2022 growing season.
2022 Chamber Calendar of Events
Check out the events coming in 2022!!
Region M - Waste Management District
On December 8, 2021.
The Region M Waste Management District approved to announce a FY2023 (July 1, 2022 through June 30, 2023) grant opportunity for waste reduction and recycling projects of local governments, businesses, and other entities.
Region M supports efforts to reduce the volume of solid waste entering landfills. Eligible activities include waste reduction, recycling, collection and processing of recyclables, composting, market development, and public education. Projects must serve within the District's five counties of Barton, Jasper, McDonald, Newton, and Vernon.
Application and other pertinent informational documents are available at https://www.regionm.org/grants, or by request at the address, telephone, mail, or email listed below.
Final applications must be received no later than 12:00 pm (noon) Monday, January 31, 2022 to be considered for funding. Applicants are strongly encouraged to contact Region M prior to submitting a final application.
Patty Overman, District Planner
407 S Pennsylvania Ave
Suite 203
Joplin, MO 64801
Phone: 417-625-6626
patty@regionm.org
All Things Sewing
1035 Gulf Street - Lamar, MO 64759
(417) 295-1063
Custom Shade Sails
Lamar, MO 64759 - (314) 576-9740
El Caballo
1201 Parry Street -Lamar, MO 64759
(417) 295-1077
Katie's House
(417) 569-5790
katieshousemo@gmail.com
The Hub
132 W 10th Street - Lamar, MO 64759
info@thelamarhub.com
The Mix Lamar
1105 Broadway Street
(417) 214-1396
Vibe Style and Beauty, LLC
The Vibe Style and Beauty, LLC is looking for part-time Sales associate working 10 to 20 hours a week. Looking for a positive, upbeat, outgoing person with knowledge of apparel styling.  No retail experience required and pay is minimum wage.
Please apply in person at:
Vibe Style and Beauty LLC
102 W. 10th Street
Lamar, MO 64759
Compton Custom Services ~ Multiple Positions
Lamar R-1 School District
Sprouls Construction, Inc.
Speciality Risk Insurance
Little Elves Emergency Water Removal
Clements Plumbing Heating & AC
Debra Lynn Smith, 65 of Golden City, Missouri, passed away Saturday, January 15, 2022. A memorial service will be held at 1:00 p.m., Friday, January 21, 2022 at Daniel Funeral Home in Lamar, Missouri.
-----------------
Steven Edward Rock, age 67, of Lamar, Missouri, passed away on January 12, 2022. In lieu of a memorial service, the family will hold a celebration of life in the spring.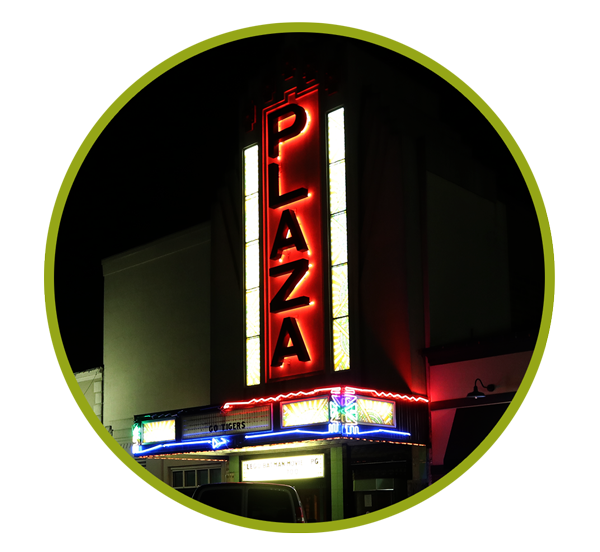 The Plaza Theater
On The Lamar Downtown Square
Please support your Plaza!
Sing 2 -- January 18-20
Tuesday - Thursday: 6:00pm
American Underdog -- January 21-27
Friday: 4:15 & 7:00pm
Saturday & Sunday: 1:30, 4:15 & 7:00pm
Monday - Thursday: 7:00pm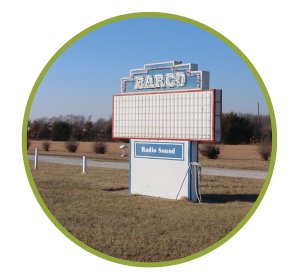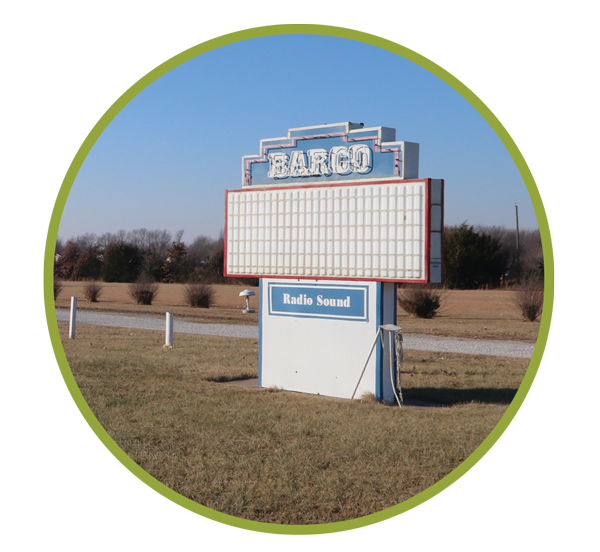 Barco Drive-In
East Highway 160
Closed For Season.
Thank you for a great season! See you in the spring for our 73rd season of entertainment under the stars!