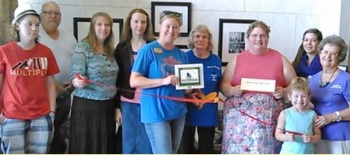 Barton County Right to Life has a huge future goal. They hope to see a day when the sanctity of life is again our national vision, and they are no longer needed! Most organizations tell us that they hope for future growth, but this group would rather not be needed or exist. However, until that time what are they all about and what are they doing in Barton County?
They are a volunteer organization that advocates for the sanctity of life. All life is God given, God alone determines what life is, and it is their belief that all human life is sacred, from conception to natural death. Governments do not determine what life is, God does. With this being said, they take no stand on the issue of capital punishment.
The group has been active in Barton County continuously since 1986. They believe that all residents of the county can count on them to stand up for them to fight for their right to life, both born & unborn. The greatest challenge has been apathy. Most people do not feel this issue is important until it directly affects them. With the new health insurance, low if any directives that negatively affect us all as the death panels, mandated abortion coverages and all the "The supposed quality of life" directives affect us.
The organization seek the direction of God, and in doing so are active in our community with educational & support activities. Probably the most visible of these are their annual fair both and the (this year) Jan 24th Memorial Rally. They also support state right to life organization in lobbying education and other activities. God has used them as a tool in bringing the abortion rate down in Barton County. For example, it has averaged about ½ of its 1980 level. The group believes this is still too high, but this progress has been good, and the group appreciates the public forum that the Chamber offers for them to promote their cause.