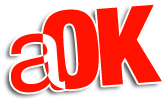 The famous quote by John F. Kennedy states it clearly: "Children are the world's most valuable resource and its best hope for the future." AOK (About our Kids, Inc.) has been investing in this valuable resource in Barton County since 1999. Founder Kathy Jenkins recognized this great need in the area and organized a coalition that launched AOK out of the basement of the Lamar United Methodist Church sixteen years ago. The program has grown to include summer and after school programs as well as prevention education within 13 local school districts in Missouri and Kansas. With the addition of Nathan's Place, the program now benefits children at the middle and high school levels as well through their VolunTeen Program and provides nutritious meals for any kid interested.
Executive Director Jerod Morey says that he is most proud of the things AOK has been able to provide for the kids through local, federal and state funding sources. "AOK has impacted so many lives, in such a positive way, that some of the long lasting effects on people are just beginning to surface within the community."
What sets AOK apart? "The staff, who have obtained Masters and Bachelor levels of education as well as a zeal for children and their wellbeing overseeing the program and daily operations." When we ask what the biggest obstacle AOK faces, Jerod smiled, "Our biggest challenge currently is in the area of finances. Many businesses have stepped up to help the program, we are writing and submitting grants, but funding is currently our biggest challenge."
To find out more about AOK & the vital programs they provide our community you may visit
http://aokyouth.org/
. You can also be a supporter by making an online tax deductible donation to AOK online through PayPal at the above link as well as mailing checks to PO Box 375, Lamar, MO 64759.